Events/News

NAPO 2023 Summit

March 30 - April 1, 2023

Previous Presentations: NAPO 2016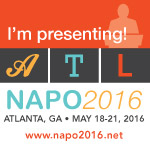 May 18-21, 2016
Nadine Seidman-Levy presenting at NAPO

From Clutter to Confidence: Get Organized in 2016

Jan 14, 2016
Thrilled to be featured in this great article by Kim Tracy Prince. Click here to read.

Preparing for the Unexpected
June 1, 2015
As seen in NAPO News
Despite our supernatural, innate skill sets, we are human, occasionally we forget to dot all of our "I's" and cross all of our "T's". Click here to read.


Nadine Seidman-Levy featured in NAPO National video
October 2, 2013
Nadine Seidman-Levy featured in NAPO National video October 2, 2013 Nadine, President of NAPO-Los Angeles and the Special Interest Group (SIG) Leader for Small Business Organizers is featured in the new NAPO 2013 national promotional video.

Nadine's "Technology: a double-edged sword" article featured in this months NAPO National publication
July 3, 2013
When was the last time you left your cell phone at home while spending [time] with someone special in your life? Read Nadine's article, featured in this months NAPO National publication, entitled Technology: A double-edged sword, click here.

NAPO-LA 2012 Organizing Awards
January 26, 2013
The 2012 NAPO-LA Organizing Awards gala will be hosted by Trish Suhr of the "Yard Sale" from Clean House and will be held at the Sheraton Universal.

NAPO News: All Systems Go! Tips for Small Business Owners and their Employees

September 4, 2012
Nadine Seidman-Levy, Principal of Management 180 & President of NAPO-LA is featured in the most recent NAPO News publication. Nadine heads the Small Business Special Interest Group, which focuses on organizing services that are focused on assisting small businesses (i.e. businesses with 20 or fewer employees). In the featured article, Nadine shares tips for working with small business owners and their employees. View the full publication here: NAPO News September/October

Got clutter? There are experts to help dig your way out
April 16, 2012
BALTIMORE – Picture the scene. More than 800 people, most of them women wearing sensible pantsuits, gather in a hotel ballroom, notepads in hand, pens at the ready. They write down every tip, every piece of advice the "experts" hand out.
After listening to one panel, they move on to another ballroom, repeating the process as the day wears on. They have a goal. They want to organize you. Yes. Scarier than a color-coordinated sock drawer.The 4,000-member National Association of Professional Organizers met here recently, just in time for the annual spring cleaning at your house. You have clutter. Admit it. That's the first step.
There it is on your desk. There it is in your closet. There it is in your "cloud," that mysterious area that floats above your computer. Are your folders perfectly organized, be they real or hovering in cyberspace? Didn't think so.
"Organizing" is big business and growing, the industry having doubled in size in just the last 10 years. Although there are no firm figures, the industry — including professional organizers and big-box retailers such as The Container Store— is heading toward being an estimated $1-billion-a-year business.
Clutter-busting tips - Deb Lee, a CPO whose firm, D. Allison Lee, is in Upper Marlboro, Md., offers these quick tips:
1. Use vertical space (walls, backs of doors) when possible. Think shoe organizers, hooks and shelving.
2. Store seasonal clothing and blankets under your bed or the bed in the guest room.
3. Store sizable things behind the sofa (wall art, rugs).
4. Don't forget about the area above the rod in your closets. See if there's room to install another shelf.

NAPO Annual Conference & Organizing Exposition in Baltimore, MD from March 21-24, 2012