The NAPO Annual Conference and Organizing Exposition draws professional organizers from around the globe. Held each year in the spring, the conference offers:
Networking opportunities with colleagues and exhibitors
Top-notch keynote speakers and cutting-edge topics
Professional education (both pre-conference and concurrent sessions) geared towards three levels---beginning, intermediate and advanced organizers.
Mark your calendars now for future NAPO conferences:
2013 - New Orleans, LA
Sheraton New Orleans
April 17-20, 2013
2014 - Phoenix, AZ
Westin Kierland Resort & Spa
May 28-31, 2014
2015 - Los Angeles, CA
Westin Bonaventure Hotel & Suites
April 15-18, 2015
2016 - Atlanta, GA
Sheraton Atlanta
May 18-21, 2016
FOR MORE INFORMATION

Introducing the New NAPO-LA President - NADINE LEVY

March 8, 2012
NAPO-LA just closed their Elections and Nadine Levy has been elected as the New Chapter President. Nadine will be acting President starting May 15, 2012 through May 15, 2013.
Congratulations and Good luck to Nadine in her new role as NAPO-LA President!
FOR MORE INFORMATION

Management 180 featured in LA Times Article

January 10, 2011
Office workers lose the equivalent of almost a week of work a year looking for files, online documents, staplers and other materials, a 2010 study found.
Today is National Clean Off Your Desk Day. No joke.
The "holiday" was created by Anne Chase Moeller, daughter of one of the founding brothers of reference book Chase's Calendar of Events.
It's safe to say that probably not a lot of people will be celebrating, but it can be a reminder that good organization of papers, files and other materials can save small businesses money. A fact that is too often neglected.

DOWNLOAD INFORMATION

Management 180 sponsors luncheon for Senator
Barbara Boxer
April 9, 2010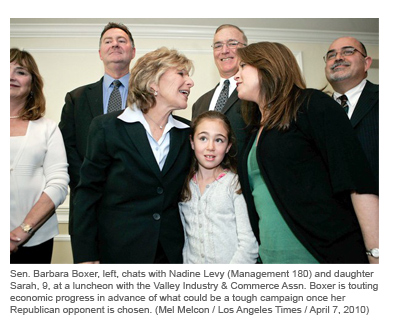 Sen. Boxer emphasizes progress on the economic front as she gears up for tough re-election race.

At a luncheon with the Valley Industry & Commerce Assn., the Democrat says that about 150,000 jobs have been created in California with stimulus money and that the state will be receiving $50 billion more.

As Sen. Barbara Boxer girds for a tough reelection battle, she is crisscrossing California during the Senate recess to highlight what she sees as concrete accomplishments in the last year -- jobs created by the economic stimulus package, benefits from the healthcare bill for seniors and the ill and tax breaks for businesses that are hiring the unemployed... Read Full Article
DOWNLOAD INFORMATION
SenatorBoxer_Management180_Article.pdf